JOHN PASCOE of PORTHLEVEN
Killed in Action 1st November 1918
GREAT GRANDFATHER of GRAHAM G MATTHEWS
My Great Grandfather JOHN PASCOE was born at Breageside, Porthleven on 18th June 1884.
For some reason he left my Great Grandmother ALRINA and daughter EDNA (my grandmother) in Porthleven, Cornwall sometime during WWI and emigrated to his brother THOMAS PASCOE in London, Ontario, Canada.
From his war records I have been ascertain that he was a short man at only 5ft 3in, weighed 126lbs and was a Fireman.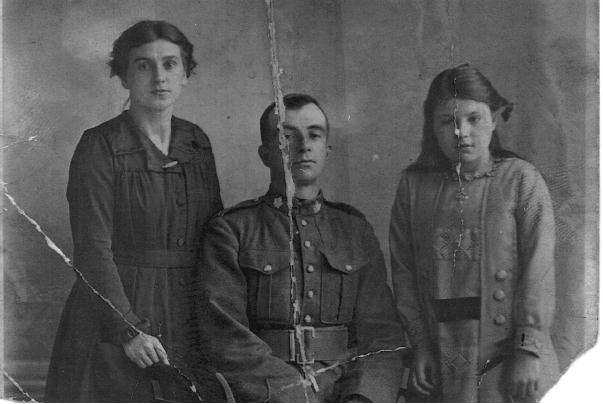 JOHN PASCOE joined the 44th Battalion, New Brunswick Regiment, Canadian Expeditionary Force on 15th January 1918 in Minnesota, USA and was sent to France via England.
The above photo was taken in Porthleven with Alrina & Edna sometime shortly after he disembarked from the S.S.TUNISAN on his way to the front.
He was killed on 1st November 1918 at Valenciennes and is buried in Aulnoy Cemetery, France with many of his comrades.