The `Blue Anchor` Inn is located at the bottom of Coinagehall Street near the Grylls Monument.
It began its life as a monk`s rest, eventually becoming a tavern sometime in the 15th Century.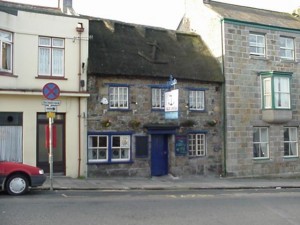 Renowned for its `SPINGO` ale which comes in three strengths and is brewed on the premises.
The brewery is located at the back alongside the old skittle alley.
The Inn has a very rich history:
In 1717 the landlord was stabbed to death after an arguement.
In 1791 the then landlord, Jimmy James had his head fractured by a bayonet during an argument with two soldiers, John taylor and Ben Willoughby.
Willoughby was later hanged at Bodmin
In 1828 a men fell to his death in the Inn well.
In 1849 James Judd, the Landlord, hanged himself in the Skittle Alley.