Located below the Bowling Green and adjacent to the Old Cattle Market.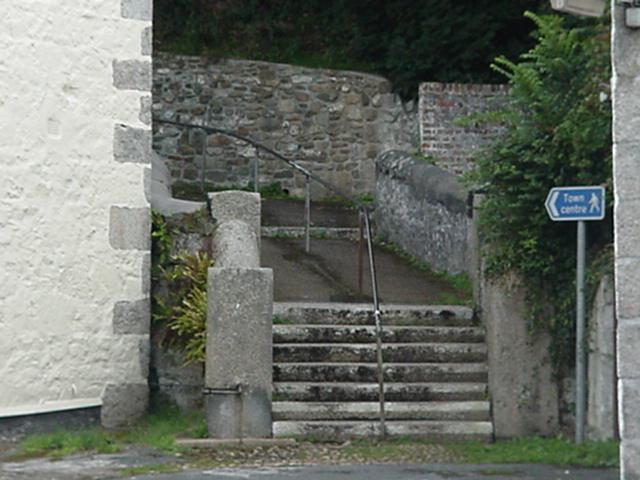 In my Grandfathers early years the steps were surfaced with cobbled stones, slippery and treacherous, worn by the constant tread of heavy hob-nailed boots. It was a steep slope connecting the Bowling Green and the former cattle market. A right of way providing a convenient approach to the residents of the lower part of the town.
The approach could well have been in use when it is generally supposed a meadowland or open ground occupied a space almost to the base of the former Castle, hence the name of the row of houses `CASTLE GREEN` . At the bottom of these steps there was a public drinking water supply. It was first released by a tap on the right hand side of the lower steps.
Today there is a handrail affixed in the centre of the walk extending the whole length.
It was at the space at the bottom of these steps that a trader named `Lacy` from Redruth occupied this spot. Every Monday he entertained the public with his gifted patter, which never failed to draw a number of prospective purchasers. Few escaped the persuasive eloquence of `Lacy` who was of a generation who could sell a fire engine or refrigerator to an Eskimo!