HELSTON 'FAIRGROUND' SWIMMING POOL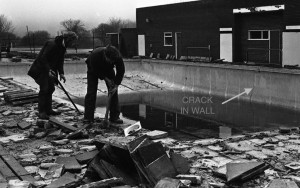 Since I started the Helston History website 15 years ago I have been asked on many occasions if I knew anything about the first Helston swimming pool. The following is what I recall from my early teenage years.
The first swimming pool was built by Helston Borough Council in 1974 on the Fairground site just behind Flora Motors.
For many years Helston residents had been pressuring the Council to provide such a facility and money had been gradually put aside for the project. However, with the onset of HBC's amalgamation into Kerrier District Council on 1st April 1974 it was decided that the pool had to be built without delay or all the money would go into the Kerrier pot and would be lost.
Two possible building sites were identified; the Fairground and Station Road. Most local people wanted Station Road because of it's close location to Helston Comprehensive School (and the 2000 pupils). Major concerns were also raised over the suitability of the Fairground site as this was originally Cober Valley swamp land and then later the first refuse tip for Helston. However, as far as I remember, the Station Road site was not owned by HBC and any time delay would mean losing the money.
So, the swimming pool was built on the Fairground site and opened in late spring 1974. I was actually there for the official opening and was one of the handful of Helstonian's to take the first 'dip'. All the Helston kids thought it was fantastic as it was unusual in it's design with the deep end being in the middle with two shallow ends.
For the next couple of years all was well until the weight of the structure (built on the swamp/refuse tip land) started to crack in the middle. The pool was drained and the crack repaired but unfortunately over the next few years the crack got bigger and the pool constantly leaked.
In the end it had to close and in 1981 it was bulldozed. I do believe that the actual pool is still below the ground but as we all know not a single bit of evidence remains on the surface.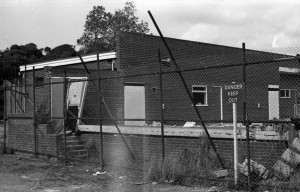 HELSTON BOROUGH COUNCIL – 'REST IN PEACE'!
Thanks to local photographer PAUL YOCKNEY for publishing the two photos.