Wheal Trewavas can be found adjacent to the coastal footpath at Tewavas Head between Porthleven and Rinsey. It is best to park your car at the car park above Rinsey Cove and then walk south for about a mile towards Porthleven.
WARNING: There are several open mine shafts located adjacent to the engine houses. DO NOT climb over the protective fences and keep all dogs and children under control. This is a very dangerous place.
Wheal Trewavas, with its two engine houses, was worked for copper with the workings reaching out under the sea in Mount`s Bay. This was not an uncommon practise with coastal mines, but work ended for its workforce of 161 in 1850 when the sea flooded the older lodes.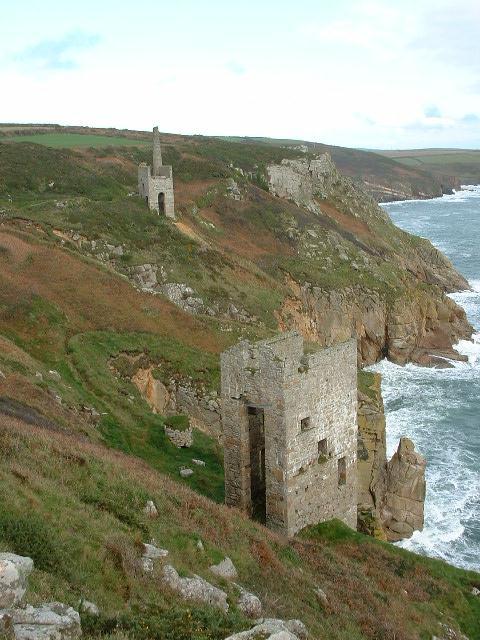 In June 1844 there was apparantly a false report circulating that the sea had broken into the mine and it would have to close. In fact it continued to work normally until May 1846 when it was resolved at a meeting of the company that since all the ends had proved the lode to be poor in depth that the mine should be stopped immediately and the materials sold by auction, "taking away only such ore as will pay". This implyed that the removal of rich ore such as is left in pillars, shafts and other places, the mining of which would have endangered or obstructed normal working.
Combined with a report of 1837 this resolution may well have set the scene for the finale. In that year it had been reported that the 20 fathom level east of the Engine shaft had been stopped because it was too close to the sea despite being worth £30 to £40 per fathom. Whether removal of this ground resulted in the sea being breached is not known, there may even have been later workings.
The story of the flooding by the sea of Wheal Trewavas was told in 'Old Cornwall' Magazine in 1961 and although no dates or references to sources are given for the event, it does makes a very interesting story.
It happened the day that the `tributers` annual dinner was to take place with the meal being served underground "well out under the sea". Two men had gone underground to put the final touches to the tables of food ready for the dinner in the evening. One of them noticed some water leaking from the roof of the tunnel and dripping onto one of the tables. The two men made a hasty exit to the surface and soon, before the time planned for the dinner, the sea had broken in leaving the dinner for the fishes. As the mine was irrevocably breached below low water all seaward work at this mine ceased henceforth.