ANN MULLER
THE LIZARD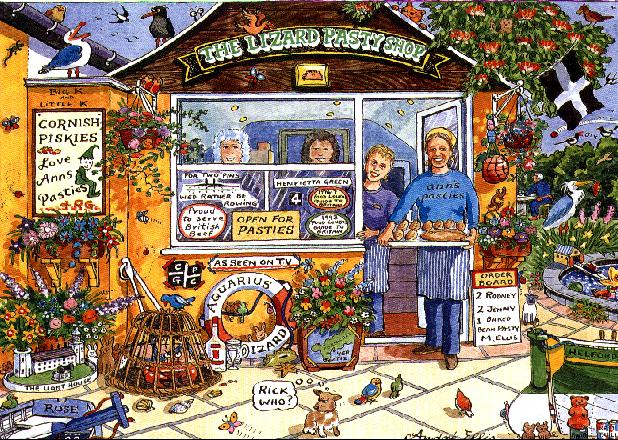 Going out for the day ?
Then you must take a Cornish Pasty – only Ann can make.
For information – you should be told,
You can eat it hot – enjoy it cold.
Treat yourself – get on line,
Ring the Lizard (01326) 290889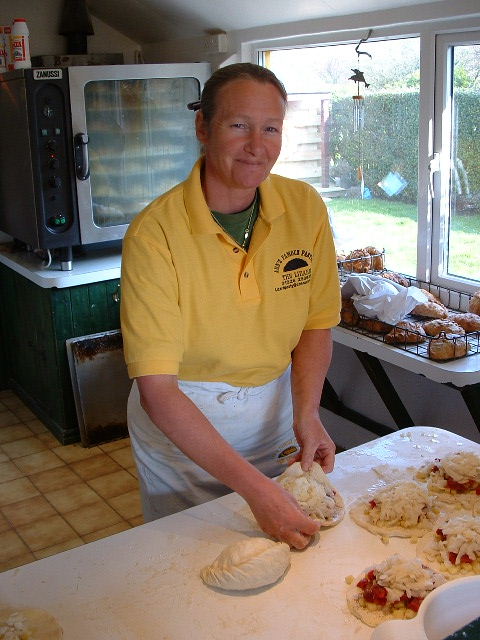 Ann Muller of The Lizard Pasty Shop hard at work making her pasties by hand!
'A pasty can be with any ingredient so long as it's baked in pastry'.
Graham says `In my years as a Helstonian I have tried many pasties but without a doubt Ann makes the very best. Everytime I go to the Lizard I have to get one, no matter whether I`m hungry or not. You just can`t go past the shop without popping in!
Ann and her team work from her kitchens only from Tuesdays through to Fridays (Saturdays will find her rowing in local regattas).
She makes her own pastry with lard, margarine and Doves strong white for the non-veg and butter, vegetable margarine and wholemeal for the veggies.
'I aim for halfway between puff and shortcrust. Filling should be skirt, what we in Cornwall call turnips but you call swede, potatoes, onions, salt and black pepper'
A pasty should be generously filled but never with too much meat, 'It's there more for the flavouring and if I use too much skirt, the juices leak onto the tray'.
Vegetarians have the choice of cheese, made of course with vegetarian rennet, or just vegetable pasties; and whatever you choose I do not think you could possibly have any cause to complain.