Located on the mian Helston to St Keverne Road on the Lizard Peninsula.
GOONHILLY became world famous as the site chosen by the General Post Office (GPO) for its experimental satellite communication ground station. Here, on the same peninsula as that chosen by Marconi in 1901 for his first successful transatlantic wireless messages (from Poldu, near Mullion), on a wild stretch of moorland at the western extremity of England on July 11th 1962, the first inter-continental picture between the U.S.A. and Great Britain was flashed across th Atlantic by way of the artificial satellite TELSTAR.
On this wild and windswept moorland were found the three essential conditions for such a station: a low horizon, a firm rock base (Serpentine) and freedom from industrial interference.
The first of many satellite dishes was 85ft in diameter, with the rotating section weighing 800 imperial tons.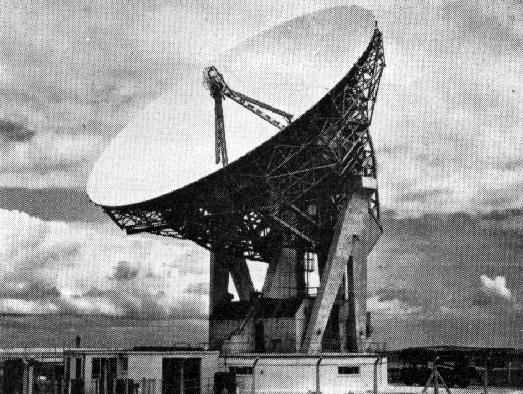 The first picture was received at 1am on Wednesday, July 11th 1962.
Early on July 13th, Post Office engineers at Goonhilly and engineers at the first American station exchanged the first telephone calls by way of TELSTAR simultaneously with facsimile pictures, including one of Princess Anne. These were sent from London to New York and from New York to London with very satisfactory results. The following day the first telephone call using the public network by way of TELSTAR was made, whilst on Monday morning, July 16th, on the initiative of the Post Office and with the co-operation of the B.B.C television, the first colour pictures to be sent across the Atlantic were transmitted from goonhilly.
Several days later, on Thursday, July 19th, the first joint European television programme to the United States was sent across the Atlantic, again via TELSTAR
On the southern edge of the Goonhilly Station site is a `Standing Stone`, or MENHIR, c.1000 B.C., and a `Barrow`, to which there is an easily accessible footpath. The path is clearly marked from the main road, about 200m on the St Keverne side of the main station entrance. From the Menhir you get an excellent view of a substantial part of the now huge complex.