The location of JERICO ROW (JERICHO ROW) remains a mystery to many present day residents of Helston.
Located below Penhellis House towards St John`s, it`s whereabouts has been long forgotten due to the entrance to it`s cottages being blocked in later years by the building of a bungalow across the entrance.
Jerico Row is now derelict. During Flora Day 2009 I was able to photograph the cottages from the grounds of Penhellis House.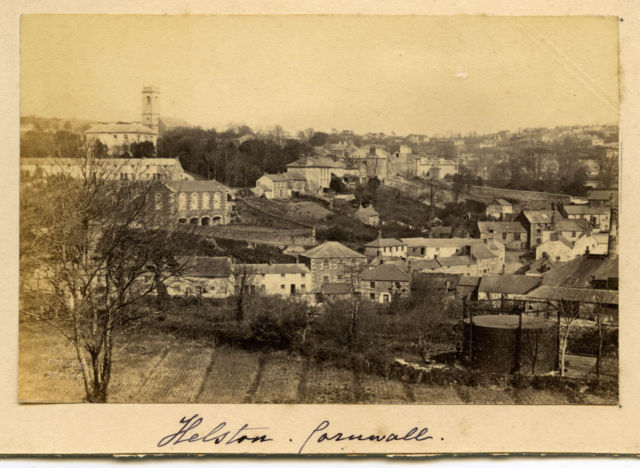 Above photograph kindly sent to the Helston History website by Helstonian CHRIS WARRINGTON.
It shows the view from Penventon Hill across lower St John's to St Michael's Church. What is very distinctive are the arches below the Masonic Hall and JERICO ROW.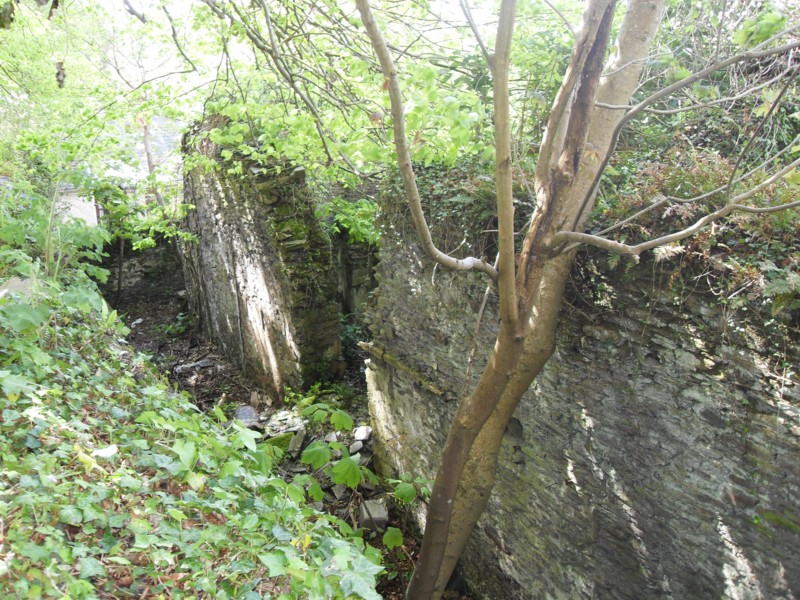 1881 CENSUS LISTS THE FOLLOWING RESIDENTS OF JERICO ROW
144,Jerico Row
,1,Thomas Pryor,Head,U,46,,Farmer,Wendron Cornwall,,
,,,Elizabeth Eathorne,Mother,W,,75,Housekeeper,Wendron Cornwall,,
,,,Emily Eva,Niece,U,,10,Scholar,Helston Cornwall,,
145,Jerico Row,
1,Sampson Uren,Head,W,71,,Formerly A Huntsman,Sithney Cornwall,Blind,
,,,Ann Symons,Dau,W,,47,Charwoman,Sithney Cornwall,,
,,,Bessie Symons,Grndau,U,,21,Servant Domestic,Helston Cornwall,,
146,Jerico Row,1,Lydia Polkinghorne,Head,W,,75,Annuitant,Breage Cornwall,,
,,,Emily Jane Lewis,Grndau,U,,17,General Serv,London Middlesex,,
147,Jerico Row,1,Amelia Julyan,Head,M,,49,Laundress,Breage Cornwall,,
,,,William H Julyan,Son,U,18,,Tin Miner,Helston Cornwall,,
,,,Charles G Julyan,Son,U,16,,Tin Miner,Helston Cornwall,,
,,,Minnie Julyan,Dau,U,,14,Domestic Serv,Helston Cornwall,,
,,,Joseph Julyan,Son,U,13,,Booksellers Errand Boy,Helston Cornwall,,
,,,Francis Julyan,Son,U,10,,Scholar,Helston Cornwall,,
148,Jerico Row
,1,William Jennings,Head,M,49,,Cabinet Maker,Helston Cornwall,,
,,,Elizabeth Jennings,Wife,M,,46,Cabinet Maker Wife,Helston Cornwall,,
,,,Edwin Jennings,Son,U,21,,Blacksmith,Helston Cornwall,,
,,,James Jennings,Son,U,19,,Blacksmiths Apprentice,Helston Cornwall,,
,,,William Jennings,Son,U,17,,Blacksmiths Apprentice,Helston Cornwall,,
,,,Harry Jennings,Son,U,6,,Scholar,Helston Cornwall,,
,,,Mary Jennings,Dau,U,,3,,Helston Cornwall,,